<a href="https://qctimes.com/news/local/govt-and-politics/steve-king-defends-confederate-flag-as-symbol-of-southern-pride/article_d40b7937-056f-5434-903e-03cc82620214.html" target="_blank" rel="noopener noreferrer">Steve King defends Confederate flag as 'symbol of Southern Pride'</a> <font color="#6f6f6f">Quad City Times</font>
Steve King defends Confederate flag as 'symbol of Southern Pride'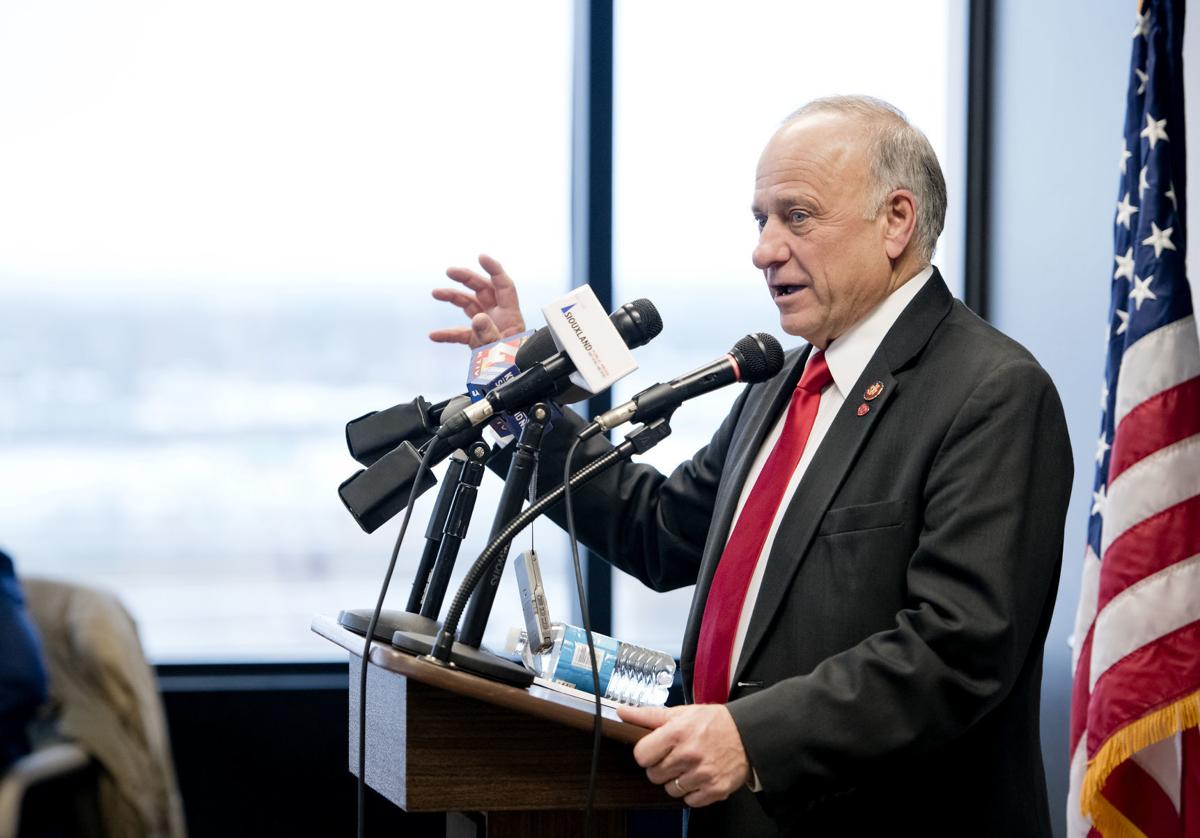 WALL LAKE, Iowa — On the heels of a June primary election loss that likely ended his lengthy career in the U.S. House, Rep. Steve King has stepped up his advocacy for keeping Confederate symbols in the public sphere.
The outspoken Iowa 4th District congressman also has repeatedly denounced the Black Lives Matter movement, which was rekindled across the country in the aftermath of a video showing a Minneapolis police officer killing an unarmed George Floyd in May.
King, a conservative Republican, has honed a national reputation for a series of incendiary comments on race and immigration during his nine terms representing a GOP-friendly district in western Iowa.
Floyd's death has sparked widespread protests calling for a series of police reforms, as well as the removal of public symbols that pay tribute to the Confederacy. Protesters have vandalized or torn down a series of statues and memorials to Confederate soldiers and generals.
Black Lives Matter and other groups also have spoken out against the "Stars and Bars," the flag some Confederate troops carried into battle during the Civil War, arguing it has long been a symbol or racism and bigotry.
Until a few years ago, King kept a small Confederate flag on his desk in his office in Washington. In the weeks since his primary loss to state Sen. Randy Feenstra, as protests against Confederate symbols have grown, King has stepped up his defense of the flag.
"If you believe the Confederate flag is and always was the symbol of slavery, show me," King wrote in a July 11 tweet. "Google "slavery" & click "images." I see Old Glory at the bottom of last page but not a glimpse of stars and bars." He linked to a page that showed up in his search, which showed dozens of black and white photos of black slaves from the 1800s.
In another tweet that same day, King wrote, "If you don't believe the Confederate flag is & has long been a symbol of Southern Pride, Google "Southern Pride." Once you get past the BBQ grills, almost all the rest are stars & bars. Makes me want to put some ribs on my grill."
That tweet linked to photos of numerous Stars and Bars flags.
On Thursday, the Democratic-controlled House voted to remove Confederate statues from the Capitol. It's not clear if the Senate will take up the measure.
Some removals have taken place nationwide. On July 1, the mayor of Richmond, Virginia, the onetime capital of the Confederacy, ordered the immediate removal of all Confederate statues on city property.
For King, such steps are misguided, as he has tweeted since mid-June that Black Lives Matter, with the shorthand of BLM, is off the mark with actions.
On June 10, King retweeted a post by Candace Owens, who wrote, "There are millions of black people in America who know #BlackLivesMatter is a terrorist group funded by white Democrats. Educated black Americans want absolutely nothing to do with them, and we will never ever take the knee."
In a Twitter post last week, King post linked to a Reuters story that highlighted President Trump's position that Confederate flag are a "proud symbol of U.S. South" and denounced Black Lives Matter and Antifa, a political movement comprised of autonomous groups affiliated by their militant opposition to fascism.
"The real Rebels are #antifa and #BLM. My bet is @RealDonaldTrump didn't have to google "southern pride" and click "images to confirm his confident and accurate statement," King said in the tweet.
On June 19, King wrote a column on the subject of Juneteenth. He tweeted, "Today is Juneteenth, the day the last slaves were freed by Union troops at Galveston in 1865. Let us reserve forever this day to celebrate our civil rights accomplishments for all whom God created equal."
Following that, King criticized that a statue of Vladimir Lenin had been unveiled in Germany at the same time Confederate monuments were being toppled by Americans, including one honoring Confederate President Jefferson Davis in June.
Several Twitter users have pushed back on King's posts defending Confederate symbols. One man wrote, "The confederacy committed TREASON against the United States of America. No symbols of that TREASON (flags, statues, memorabilia, etc…) should be on public lands or in public venues. Those who support that TREASON should be shunned, ostracized, and kicked out of office."
In a Journal interview in March 2017, King said he removed the Confederate flag from the desk in his Capitol Hill office in the aftermath of the fall 2016 shooting deaths of two Des Moines area police officers by a man with ties to the controversial banner.
King pointed out he voluntarily removed the flag "not because anyone demanded or requested that it come down."
Last year, King found himself again in hot water on a racially-charged issue after his quotes in a New York Times story questioned when terms like "white supremacist" and "white national" became offensive.
In the aftermath of an national uproar over the comments, GOP House leaders stripped King of all his committee assignments.
His loss of clout in Congress emerged as a key issue in the June primary campaign in which Feenstra and three other challengers sought to oust King. Feenstra beat King by nearly 10 points in the sprawling 4th District, which covers 39 counties in Northwest and North Central Iowa.
Feenstra now squares off against Democratic nominee J.D. Scholten, of Sioux City, in the November general election.