<a href="https://www.nytimes.com/2020/01/31/us/politics/michael-bloomberg-spending.html" target="_blank" rel="noopener noreferrer">Bloomberg Fueled His Campaign With $200 Million From His Fortune</a> <font color="#6f6f6f">The New York Times</font>
A federal filing showing spending through December provides the most detailed description yet of how Mr. Bloomberg deployed his wealth in a quest for the presidency. The bulk went to advertising.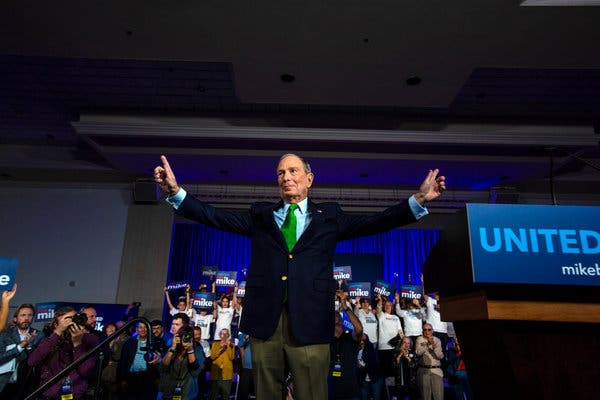 Michael R. Bloomberg put more than $200 million of his personal fortune into his presidential campaign by the end of December, with the overwhelming bulk of that sum going to a mammoth advertising campaign on television and online, according to Mr. Bloomberg's first campaign finance disclosure with the Federal Election Commission.
The filing on Friday is the most detailed description yet of how Mr. Bloomberg has deployed his personal fortune in a quest for the presidency that only started in late November. Since then, Mr. Bloomberg has climbed into the high single digits in national polls, largely on the strength of an onslaught of campaign commercials with no precedent in Democratic politics.
A campaign aide to Mr. Bloomberg, the former mayor of New York City, said he spent $132 million on television and about $8 million on digital advertising, far overshadowing the campaign spending of the other Democrats in the race. In total, the Bloomberg campaign had spent $188 million on ads by the end of December.
In addition to that sum, the campaign disclosed it had additional invoices totaling nearly $33 million that would be paid in the next filing period, meaning that it had deployed resources worth more than $200 million within his first five weeks as a candidate.
Mr. Bloomberg's spending has defined his candidacy in more ways that one: His advertising has introduced him quickly to voters across the country who may have known little about him to begin with, and his vast fortune has made him an attractive candidate to some Democrats intrigued by the idea of attacking President Trump with an unlimited budget.
But in a party defined in no small part by concerns about inequality and economic power concentrated in the hands of the wealthy, Mr. Bloomberg's fortune — estimated at well above $50 billion — is also a source of discomfort to many Democrats, and his lavishly funded candidacy has drawn sharp criticism from populist liberals, like Senators Bernie Sanders and Elizabeth Warren.
In a statement, Mr. Bloomberg's campaign manager, Kevin Sheekey, called the extraordinary use of Mr. Bloomberg's personal wealth a "down payment" on a longer effort to oust Mr. Trump.
"Our first month's filing represents a down payment and commitment in all 50 states to defeat Donald Trump, and it shows we have the resources and plan necessary to take him on," Mr. Sheekey said.
While Mr. Bloomberg's advertising has been by far the most consequential way he has used his money, to date, his disclosure report showed other campaign spending that would be unthinkable for a candidate with more traditional financial constraints, including $1.5 million in payments to cover rent for a large number of campaign staffers and more than $600,000 on travel by private jet.
The report also included a payment of $14 million to Mr. Bloomberg's company, Bloomberg LP, that a campaign aide said was intended to cover expenses the company was likely to incur as a result of Mr. Bloomberg's campaign, including compensation for Bloomberg LP employees who have recently joined his political operation.
Mr. Bloomberg reported no donations from anyone other than himself.
Mr. Bloomberg's finances are largely opaque, and they are almost certainly the most complex of all the Democratic presidential candidates. He has not released any tax returns since entering the Democratic primary, and his campaign has postponed filing a personal financial disclosure form until late March, after many of the states he is contesting will already have voted.
---

---

After stalling or slipping in the polls for most of 2019, Bernie Sanders is closing hard just before the leadoff contests. Here's our latest analysis.

---

Learn more about the top-polling Democratic presidential contenders.

---

Get an email recapping the day's news