<a href="https://www.nytimes.com/2020/07/30/us/politics/trump-postpone-election.html" target="_blank" rel="noopener noreferrer">Can Trump Postpone the 2020 Election? Your Questions Answered.</a> <font color="#6f6f6f">The New York Times</font>
We answer some key questions about holding elections in a crisis. And no, the president cannot cancel an election on his own.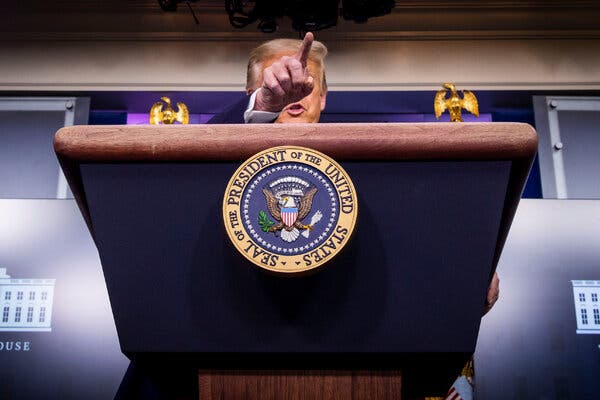 President Trump, who is trailing badly in polling of the race for the White House, suggested on Thursday that the Nov. 3 general election be delayed "until people can properly, securely and safely vote." Even for him, floating the idea of postponing the election was an extraordinary breach of presidential decorum.
But the president does not have the authority to move the date of a federal election. And Mr. Trump's other claim on Thursday, that widespread mail-in voting would make the election "inaccurate and fraudulent," is false.
Here are answers to some key questions about holding elections in a crisis.
No.
Article II of the Constitution empowers Congress to choose the timing of the general election. An 1845 federal law fixed the date as the first Tuesday after the first Monday in November.
It would take a change in federal law to move that date. That would mean legislation enacted by Congress, signed by the president and subject to challenge in the courts.
Did we mention that the House of Representatives, which is controlled by Democrats; the Senate, which is controlled by Republicans; and President Trump would all have to approve such legislation?
To call that unlikely would be an understatement.
Even if all of that happened, there would not be much flexibility in choosing an alternate election date: The Constitution mandates that the new Congress must be sworn in on Jan. 3, and that the new president's term must begin on Jan. 20. Those dates cannot be changed just by the passage of normal legislation.
Marc Elias, the prominent Democratic election lawyer, on Thursday knocked down the idea that Mr. Trump could move the election on his own.
Yes: In response to the coronavirus pandemic, sixteen states and two territories either pushed back their presidential primaries or extended deadlines for voting by mail.
States have broad autonomy to define the timing and procedures for primary elections. The exact process for setting primary dates varies from state to state.