<a href="https://auburnpub.com/news/local/govt-and-politics/ny-local-government-officials-don-t-change-state-bail-reform/article_4f58a675-f094-568c-8c7d-0aa4d0168c4b.html" target="_blank" rel="noopener noreferrer">NY local government officials: Don't change state bail reform law</a> <font color="#6f6f6f">Auburn Citizen</font>
NY local government officials: Don't change state bail reform law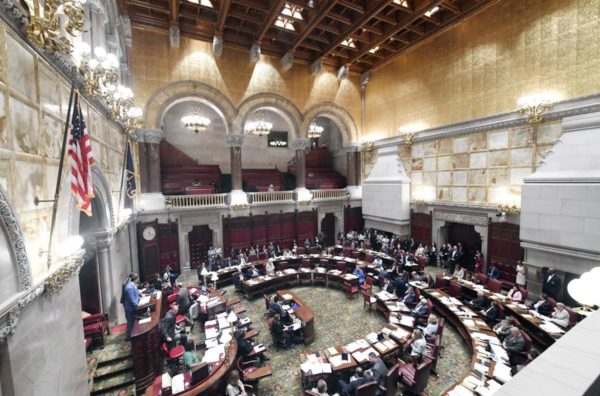 As several New York district attorneys and sheriffs argue that the state bail reform law should be modified or repealed, more than 30 local government officials believe Gov. Andrew Cuomo and the state Legislature shouldn't make any changes to the measure. 
Thirty-six local elected officials — from New York City Council members to town board members in upstate — signed a letter urging Cuomo and state lawmakers to preserve the law. 
In the letter, local elected officials asked state legislators to "resist the misinformation" and "stand by your decision to make the pretrial system more fair to thousands of New Yorkers." 
The 2019-20 state budget included the new bail reform law. Under the law, which took effect Jan. 1, cash bail has been eliminated for most misdemeanor and nonviolent felony offenses. 
Supporters of the law say it ends the practice of holding individuals for long periods of time — sometimes years — because they can't afford bail. But critics believe it jeopardizes public safety because some individuals accused of serious crimes have been issued appearance tickets and released from police custody. 
"You should be commended for the pretrial laws you enacted last session around reforming the bail system," the local government officials wrote. "The new laws significantly reduce the footprint of cash bail, expand criminal discovery and further enforce the right of a speedy trial. But fearmongers are leading a vicious campaign relying on stereotypes and disinformation to roll back these laws and reverse the progress we have made in the Empire State." 
A Siena College poll released this week found growing opposition to the law. Nearly 60% of New York voters surveyed said the bail reform law is bad for New York. One-third of voters said it was good for the state. 
In January, nearly half of voters said the law is bad for the state. 
There might be some changes made to the bail reform law in the 2020-21 budget. Cuomo has said he wants improvements to the law to be part of budget negotiations. Senate Majority Leader Andrea Stewart-Cousins agrees. But Assembly Speaker Carl Heastie believes there shouldn't be a rush to alter the law. 
Online producer Robert Harding can be reached at (315) 282-2220 or robert.harding@lee.net. Follow him on Twitter @robertharding.