<a href="https://comvoicesonline.com/local-women-of-color-dominate-local-national-politics/" target="_blank" rel="noopener noreferrer">Women of Color Dominate Local, National Politics – Michigan Community Voices</a> <font color="#6f6f6f">Comvoicesonline</font>
By Sonya Bernard-Hollins, publisher
Community Voices
KALAMAZOO (MICH.)- It all of a sudden it her in the middle of the announcement. Keshia Dickason was overjoyed. Not only would she be running for a seat on the Texas Township County Commission in November, but she would be on the ticket along with Kamala (comma-lah) Harris…the first African American woman vice presidential running mate! 
"I am on Cloud 9!" Dickason said in a recent phone interview. "I was jumping up and down when I realized that not only was she in history as a black woman, but she is also my sorority sister…that's Black Girl Magic!"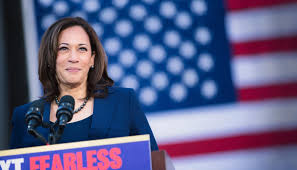 Dickason is a member of Alpha Kappa Alpha Sorority, Inc., the first Greek-letter organization for black women. The organization was founded at Howard University and was the catalyst for what is known as the Divine Nine council of African American fraternities and sororities. The nomination of California Senator Harris (pictured left), a Howard graduate, already has ignited movements by those at Historically-Black Colleges and Universities, and African American Greek-letter organizations, to come out to the polls in record numbers to support not only Harris, but other African Americans on the 2020 election tickets. 
Dickason is running for a seat in District 9 and was one of four African American women on the ballet for seats in Kalamazoo County elections. The others up for election in November include Veronica McKissack, County Commission District 5, Mona Lisa Watson for Clerk and Register of Deeds, Valarie Cunningham who is running for County Commission District 5, along with Tami Ray for County Commissioner District 1, and Kizzy Bradford for Trustee of Oshtemo Charter Township. For the first time in history the ballots in Kalamazoo County local elections on August 4th included more African American women than ever (See Entire Ballot Results Here)
In the meantime, Dickason is making history as possibly the first African American female to run for a Texas Township seat. It is something she and her family are proud of. In addition to her being the only college graduate in her family, Dickason is the first in her family to run for any political office. Born in Muskegon, she moved to Kalamazoo to attend Western Michigan University. Dickason feels women of color can bring unique perspectives to local political seats in areas from education to environmental issues.
"We need our voices all over (areas) our communities…at the table," Dickason said. She learned the importance of political influence in her quest to open a boarding school in Kalamazoo. Mentors such as Von Washington, Jr. of the Kalamazoo Promise, encouraged her to run for school board or other offices where she could learn the ins and outs of how a community works and who would be there to support. She took his advice and later was encouraged by Oshtemo Township Trustee Zac Ford to bring her passion for health to Oshtemo. She was an Oshtemo Planning Commissioner and served on the Health and Wellness Planning Commission to inspire healthy recreation to their neighborhoods. Her networking in the political arena led to friendships with Sean McCann and others whose experience in local politics served as inspiration. 
Dickason, a wife and mother of three, hopes to bring influence to a Commission seat in the areas of strategic planning toward areas of flooding in communities as well as to help with budget issues. In the meantime, she will continue to hit the campaign trail not only for her, but for vice presidential hopeful, Senator Harris.
"I really believe that her background and her experience as senator and prosecutor is really going to help Biden bring the African American vote," said Dickason. "(Many) of the Divine Nine are behind her. Because she is on the ticket it will bring people of color out to vote. I believe she could potentially be the next vice president. We need a little bit of sunshine in politics in our country and I think she is it."
Prior to Biden's selection of Harris, Dickason said she heard many people say, they just didn't feel Biden or Trump was worth heading to the polls for. Now, with Senator Harris on the ticket the conversation has changed.
"They have a reason now," Dickason said. "Michigan was one of the top leading state in voting for Democratic party on August 4th; mainly because of the huge absentee ballots. We know for November, we need to push that option for people not comfortable coming to the polls. I can't wait!"