<a href="https://www.nytimes.com/2020/10/14/us/politics/trump-election-polls-trailing.html" target="_blank" rel="noopener noreferrer">Backed Into a Corner</a> <font color="#6f6f6f">The New York Times</font>
On Politics With Lisa Lerer
Facing growing deficits in the polls, President Trump is begging for votes, lashing out at enemies and spreading more false conspiracy theories.
Hi. Welcome to On Politics, your guide to the day in national politics. I'm Lisa Lerer, your host.
Sign up here to get On Politics in your inbox every weekday.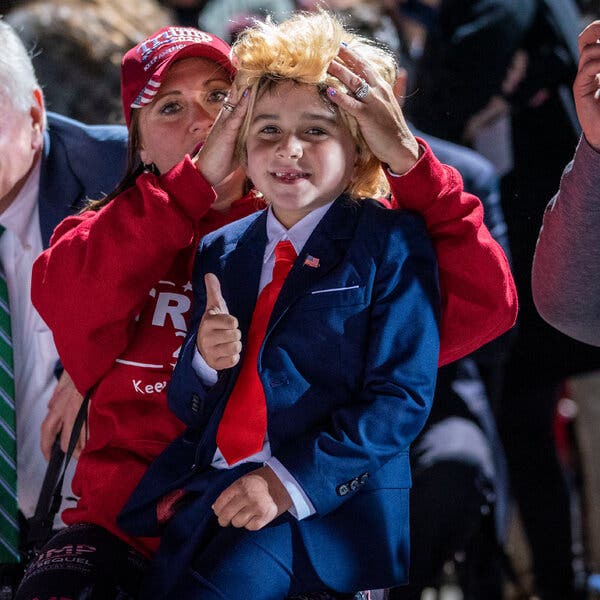 Generally, it isn't a great sign when a candidate starts begging for votes.
But that's what President Trump did last night, when he pleaded with a crucial voting bloc to support his candidacy.
"Suburban women, will you please like me?" the president said at a rally in Johnstown, Pa., a distressed steel town. "Please. Please."
These are not the words of a man who thinks he's running a winning re-election campaign. For a president who loves to throw around the word "loser," facing the possibility of losing hasn't been easy.
As is typical with Mr. Trump, he hasn't been able to conceal his anxieties. "Can you imagine if you lose to a guy like this?" he said last night, referring to Joe Biden. "It's unbelievable."
Of course, plenty can happen over the next three weeks to change the dynamics of this race. And Mr. Trump will get a high-profile opportunity to reach voters tomorrow night, when he'll take the stage for a town-hall-style event broadcast on NBC, opposite Mr. Biden's event on ABC. (If you want to follow both at the same time, join us tomorrow night for our live chat.)
It's not the ideal setting for the president: He is known to perform poorly at such intimate campaign events, given his struggles to show empathy, and there's been little evidence that voters will move back to his side upon hearing more from him.
The president's worries have been particularly striking this week, right when he should be marking a crowning achievement of his first term. With Judge Amy Coney Barrett's confirmation hearings underway, Mr. Trump is close to delivering on a decades-long conservative project to shift the Supreme Court to the right.
Yet, instead of focusing on that win, Mr. Trump lashed out against Senator Cory Booker of New Jersey yesterday, calling him a "total loser" after Senator Booker pressed Judge Barrett on her support for the Affordable Care Act.
Mr. Trump has been ping-ponging around the country to hold rallies, flouting the advice of medical professionals in the midst of a deadly pandemic that a majority of voters believe he has mishandled. He's even planning a stop this week in Georgia, the kind of traditionally conservative state a winning Republican presidential candidate would not need to shore up three weeks before Election Day.
Part of the problem for Mr. Trump is that he's simply not getting the kind of breaks that cut his way in the final weeks of the 2016 campaign.
In October 2016, James Comey made the surprise announcement that the F.B.I. was reviving an inquiry into Hillary Clinton's emails. This week, a Justice Department review of routine classified information requests by Obama-era officials concluded without finding irregularities, a blow to Mr. Trump's claims of a "deep state" plot against him.
In October 2016, WikiLeaks exposed more documents stolen from Democratic aides. This year's biggest October surprise has been the coronavirus cluster that infected many high-profile Republicans, as well as the president himself, his wife and his son Barron.
With his poll numbers sagging, Mr. Trump is resorting to posting conspiracy theories on Twitter. In recent days, he retweeted claims that a conservative protester in Denver had been shot by an antifa activist. The Denver Police Department announced that the suspect in the shooting was a private security guard, with "no affiliation" to the movement.
He also retweeted an outrageously false conspiracy theory, promoted by QAnon backers, that Osama bin Laden hadn't really been killed. (There was plenty more about how Mr. Biden, former President Barack Obama and Mrs. Clinton tried to cover it up.) Those claims were quickly rebuked by a Navy SEAL famous for his role in killing bin Laden.
Even for a president who has spent four years trafficking in conspiracy theories and disinformation, this one was a doozy of desperation.
We want to hear from our readers. Have a question? We'll try to answer it. Have a comment? We're all ears. Email us at onpolitics@nytimes.com.
---
This summer, after a new Trump-aligned postmaster general instituted a suite of policy changes, mail delivery slowed considerably. Since then, the Postal Service announced that some of those changes had been reversed, and it has also introduced some initiatives meant to speed up the processing of mail during the election season.
But data from 54,000 letters tracked each day suggests that the changes haven't made much of a difference. Mail is still nearly as delayed as it was in July and August, when postal performance became the subject of front-page stories and congressional hearings. The slowdown has heightened anxiety over whether the Postal Service can handle what is expected to be the largest number of mailed ballots in U.S. history.