<a href="https://www.stltoday.com/news/local/govt-and-politics/parson-signs-missouri-budget-slashes-planned-spending-amid-lagging-tax-collections/article_45f65579-506d-5e79-bcd1-9c8a4cfb051e.html" target="_blank" rel="noopener noreferrer">Parson signs Missouri budget, slashes planned spending amid lagging tax collections</a> <font color="#6f6f6f">STLtoday.com</font>
Parson signs Missouri budget, slashes planned spending amid lagging tax collections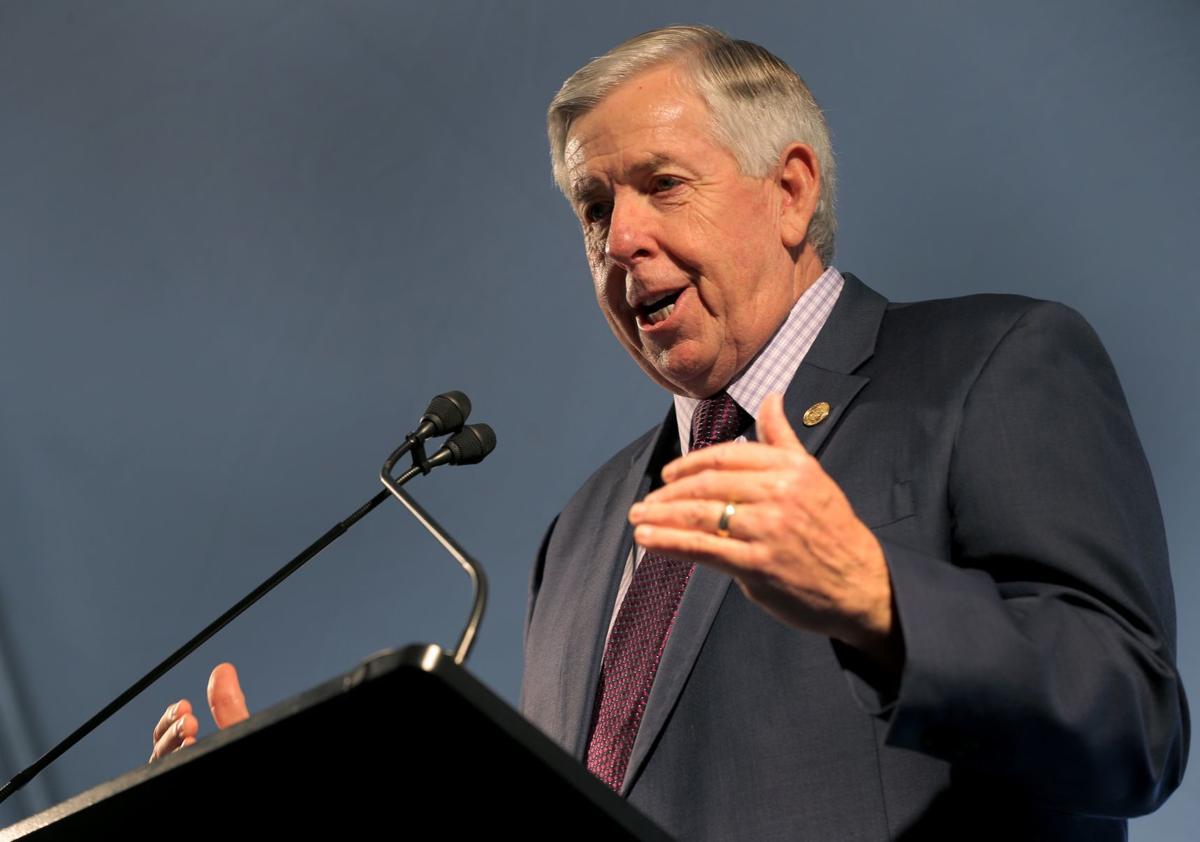 JEFFERSON CITY — Gov. Mike Parson on Tuesday signed Missouri's $35 billion spending plan for the new fiscal year, but in doing so, he used his veto pen to cut more than $11 million in spending as revenue collections lag during the current economic downturn.
"COVID-19 has severely impacted our economy and our expectations," Parson said at a press briefing at the Capitol.
In addition to the vetoes, the Parson administration restricted an additional $448 million in spending, which state Budget Director Dan Haug said would be enough to balance the state's fiscal 2021 budget if current projections hold.
The Legislature had already delivered to Parson a budget that was about $700 million less than Parson had proposed in January.
Parson said he could release at least some of the withheld money if revenue collections improve in fiscal year 2021, which begins Wednesday.
The withheld amounts span state government, including $28 million worth of cuts to four-year higher education institutions and $150,000 that was earmarked for the attorney general's office to investigate the "gray market gaming machines" that have spread across the state.
Haug said they also would include layoffs for some state employees.
"Restrictions will likely eliminate around 500 positions," he said, adding that about 300 of those positions are filled.
Of the estimated 300 people facing layoffs, about 200 of them are middle managers in the Department of Social Services and 30 in the Department of Mental Health.
Others are spread across other state agencies. Haug said the cuts would not result in an increase in caseloads.
There are more than 50,000 employees within the state workforce.
Among the vetoes Parson announced, the Republican chief executive nixed 6-cent increases to the mileage reimbursement rates for numerous state agencies.
Parson vetoed $1 million that had been earmarked for the Harry S. Truman Presidential Library and Museum, in Independence. Parson also vetoed $5 million that had been set aside for maintenance of low-volume highways.
Parson scrapped $59,750 that was to be spent on the State Defense Force.
"(O)ther agencies such as the Missouri National Guard and Missouri Task Force 1 are already providing the services," Parson said in his veto letter.
Parson vetoed $400,000 the state was supposed to spend on its Remote Patient Monitoring System, a program to ensure patients "are discharged from hospitals to an appropriate level of care" and that MO Health Net beneficiaries "receive care in the most cost-effective setting."
Overall funding for the program was cut in half, to $400,000 from $800,000.
"This is a longstanding pilot program that has never been expanded statewide," his veto letter says.
The governor also cut $400,000 from the Rx Reminder Program, which he also said had never been expanded statewide.
The Missouri State Public Defender's Office, which has long pushed for more state resources, also won't be able to use $267,000 to hire six more legal assistants.
"This is not the time to be adding additional staff," Parson's veto letter says.
Through Monday, for the 2020 fiscal year, which ended Tuesday, net general revenue collections were down 6.36% from the previous fiscal year, according to the state's daily general revenue report.
Before the pandemic, for the 2020 fiscal year, budget writers had forecast — and based the state's spending plan on — a modest 2% growth in revenue.
But amid falling revenues, which coincided with an extended deadline for taxpayers to pay their tax bills, Parson slashed $430 million in spending this spring. Most of the cuts came from higher education and public schools.
The Republican-controlled Legislature will have a chance to override the governor's vetoes later this year. The legislators also might reconvene to address any other budget issues that might occur.
The $35 billion figure includes about $5.5 billion in spending authority for federal stimulus funds, much of which the state has not received.
Kurt Erickson of the Post-Dispatch contributed to this report.