<a href="https://www.nytimes.com/2020/01/10/us/politics/marianne-williamson-drops-out.html" target="_blank" rel="noopener noreferrer">Marianne Williamson Drops Out of 2020 Race</a> <font color="#6f6f6f">The New York Times</font>
Ms. Williamson, a self-help author and spiritual adviser who ran for president, had viral debate moments but drew fire for her comments on science and medicine.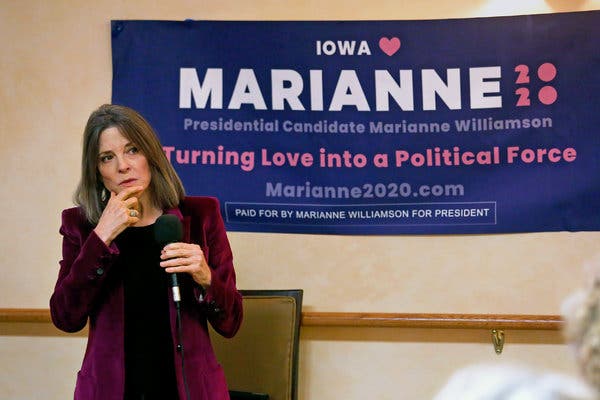 Marianne Williamson, the self-help author and spiritual adviser whose long-shot presidential campaign called for reparations and a Department of Peace, announced on Friday that she would drop out of the race.
"I stayed in the race to take advantage of every possible opportunity to share our message," Ms. Williamson said in a message to supporters. "With caucuses and primaries now about to begin, however, we will not be able to garner enough votes in the election to elevate our conversation any more than it is now."
She added that, in a race as tight as this one, she did not want to "get in the way of a progressive candidate winning" any caucus or primary.
Ms. Williamson, 67, built her campaign around an eclectic mix of progressive policies and lofty pronouncements. President Trump's election was a symptom of a spiritually diseased society, she said, and only love, not plans, could defeat him.
"Mr. President, if you're listening, I want you to hear me, please: You have harnessed fear for political purposes, and only love can cast that out," she declared from the debate stage in June. "I'm going to harness love for political purposes. I will meet you on that field, and sir, love will win."
Ms. Williamson was averaging less than 1 percent in polls and had not qualified for a debate since July. Earlier this month, she laid off her entire staff — a development first reported by New Hampshire's WMUR television station and confirmed by Ms. Williamson's campaign manager, Patricia Ewing, who was among those laid off.
At that July debate, she gave forceful responses to two questions about race — describing reparations not as "financial assistance" but rather "payment of a debt that is owed," and saying the water crisis in Flint, Mich., would never have happened in a wealthy, majority-white suburb — and got a brief surge of public attention. But her poll numbers did not budge, and the spotlight also brought renewed scrutiny of her views on science and medicine.
Earlier in the year, she had called vaccine mandates "Orwellian," then backtracked under fire. She also criticized the widespread use of antidepressants, linking them without evidence to celebrity suicides and asserting that doctors recklessly prescribe them to suppress ordinary emotions.
In an interview with The New York Times over the summer, she said she had been wrong to call clinical depression a "scam," but stood by other remarks that mental health experts warned could increase the stigma surrounding mental illness and discourage people from seeking medical help.
Ms. Williamson's presidential campaign was only her second foray into politics, after an unsuccessful congressional bid in California in 2014. But she is famous in the self-help and New Age communities, having written multiple New York Times best-sellers and been a spiritual adviser to Oprah.
She opened the Los Angeles and Manhattan Centers for Living in the 1980s to support people with H.I.V. and AIDS at a time when they were often ostracized, and also founded Project Angel Food, which provides free meals to people with serious illnesses.
In addition to her call for $200 billion to $500 billion in reparations for slavery, a central component of Ms. Williamson's platform was her proposed Department of Peace.
Essentially, such a department would have expanded and strengthened the State Department's peace-building agencies. Ms. Williamson said it would work to prevent wars and to reduce violence within the United States, including shootings and domestic terrorism.
In her message to supporters, Ms. Williamson said that she would back the eventual Democratic nominee, no matter who it is: "I will be there with all my energy and in full support."
"Things are changing swiftly and dramatically in this country, and I have faith that something is awakening among us," she wrote. "A politics of conscience is still yet possible. And yes … love will prevail."